Marie Dacke: Celestial orientation – from behavior to neurons
Lund University, Sweden [NEUROSCIENCE & NEUROTECHNOLOGY LECTURE SERIES]
When
Sep 16, 2020
from

12:15 PM

to

01:15 PM

Where

Zoom Meeting

Contact Name
Andrew Straw
Add event to calendar

vCal




iCal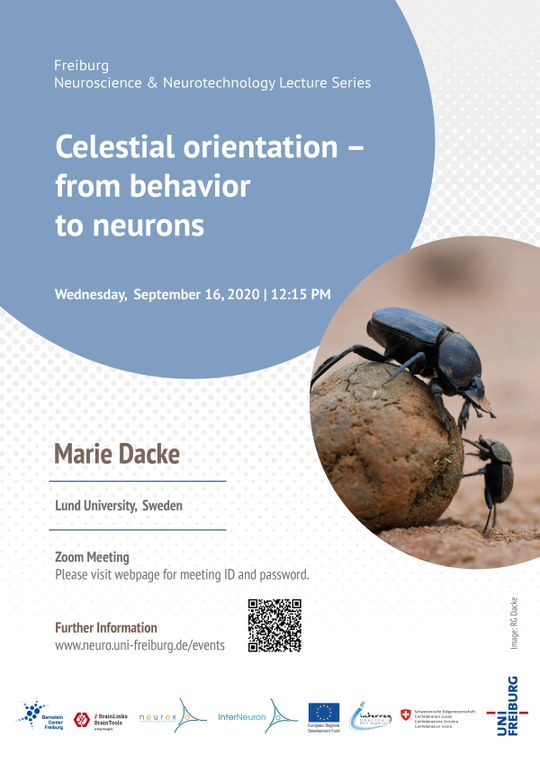 The unique celestial compass system of South African dung beetles has been intensely studied for nearly 20 years. Diurnal and nocturnal African dung beetles use celestial cues such as the sun and moon and the skylight polarization pattern to roll dung balls along straight paths over the savanna. Although nocturnal beetles move in the same manner through the same environment as diurnal species, they do so when it is at least a million times dimmer. Compass neurons in the central complex of diurnal beetles are tuned primarily to the position of a simulated sun, while at lunar light intensities the same neurons in the nocturnal species switch exclusively to polarized light. Thus, these neurons encode the hierarchy of celestial cues and alter their preference according to ambient light conditions. This flexible encoding of the hierarchy of celestial cues relative to the prevailing visual scenery provides a simple, yet effective mechanism for enabling visual orientation at any light intensity.

Marie makes regularly visits to South Africa, with the aim to understand the underlying visual and neuronal mechanisms for navigation. During her career, she has discovered new and unexpected orientation mechanisms, has led several international research programs and is an alumna of the Swedish Young Academy. Marie Dacke received the IgNobel prize in 2013 and is a Swedish champion in Science Communication.


The talk will be held online via Zoom
Meeting ID and password will be sent with e-mail invitation. You can also send an e-mail to katjakukatz@bcf.uni-freiburg.de for meeting ID and password.
More about Marie Dacke and her research: