Paul Frankland: How new neurons make you forget
Josselyn Frankland Lab, Neurobiology Laboratory at the Hospital for Sick Children, Toronto, Canada [NEUROSCIENCE & NEUROTECHNOLOGY LECTURE SERIES]
When
Apr 14, 2021
from

02:00 PM

to

03:00 PM

Where

Zoom Meeting

Contact Name
Katja Kukatz
Add event to calendar

vCal




iCal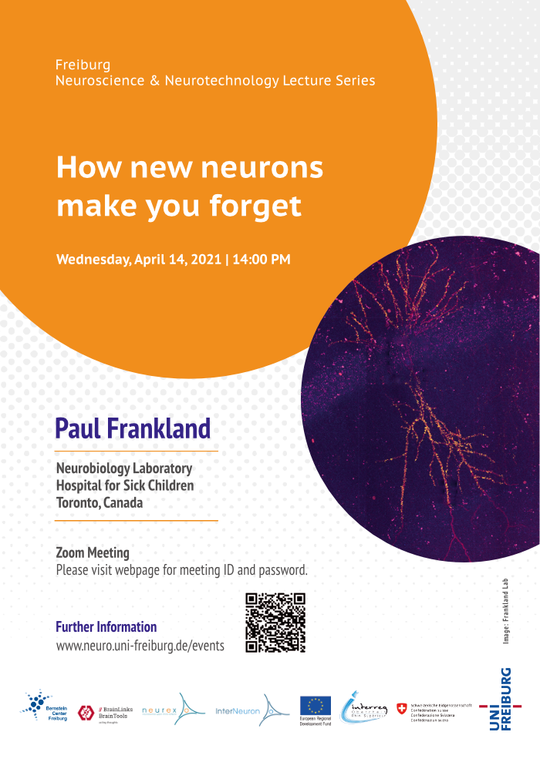 Hippocampal neurogenesis and forgetting: From infantile amnesia to memory generalization

New neurons are generated in the hippocampus throughout life. Our studies showed that these neurons integrate into hippocampal memory traces where they promote the encoding of new memories. However, we also found that increasing neurogenesis induces forgetting of memories already stored in the hippocampus.
This finding suggests that the function of hippocampal neurogenesis is to regulate a balance between encoding new, and clearing out old, memories. In my presentation, I will focus on how the integration of new neurons causes forgetting, highlighting experiments where we have either enhanced or impeded integration of new neurons into hippocampal circuits.  
The talk will be held online via Zoom
Meeting ID and password will be sent with e-mail invitation. You can also send an e-mail to katja.kukatz@bcf.uni-freiburg.de for meeting ID and password.


Duration of the talk:
Approx. 50 minutes, then general and specialized discussion.
More about the speaker and his research
Host