Hernán López-Schier: From Underwater Mechanosensation to Preventing Neurodegeneration
Helmholtz Zentrum München [NEUROSCIENCE & NEUROTECHNOLOGY LECTURE SERIES]
When
Oct 20, 2021
from

12:15 PM

to

01:45 PM

Where

Zoom Meeting

Contact Name
Katja Kukatz
Add event to calendar

vCal




iCal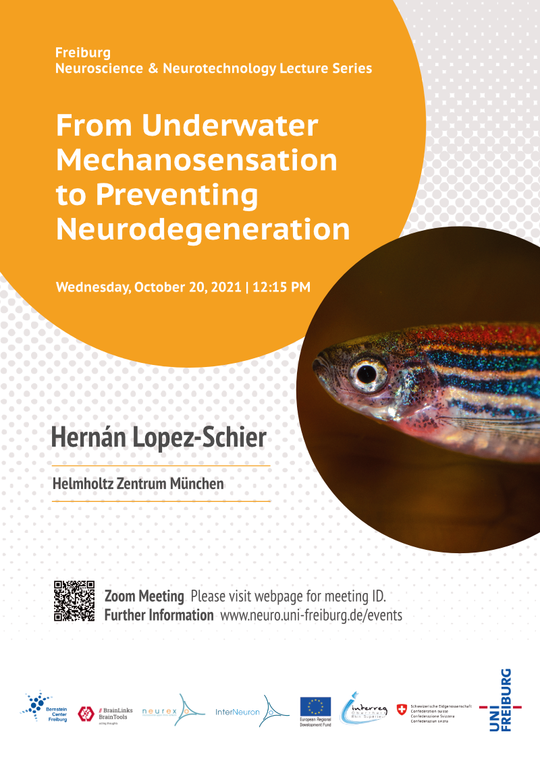 Abstract
Sensing the spatiotemporal progression of stimuli is an important function of the vertebrate skin and hearing organs, but how directional mechanical stimuli are perceived by superficial receptors, coded by the underlying neuronal circuits and decoded in the brain remains mysterious. I will show our progress in understanding how zebrafish uses the mechanosensory lateral line to respond to changes in the direction of water flow. In addition, I will highlight how we are taking our fundamental discoveries in animals to tangible practical uses to address neurodegeneration in humans.


Duration of the talk:
Approx. 50 minutes, then general and specialized discussion.


The talk will be held online via Zoom
Meeting ID and password will be sent with e-mail invitation. You can also send an e-mail to katja.kukatz@bcf.uni-freiburg.de for meeting ID and password.
More about the speaker and his research
Sensory Biology & Organogenesis

Host

Image source
Petr Kuznetsov | Pixabay.