Erin Schuman: Protein Synthesis at Neuronal Synapses
Max Planck Institute for Brain Research, Frankfurt am Main [NEUROSCIENCE & NEUROTECHNOLOGY LECTURE SERIES]
When
Dec 01, 2021
from

12:15 PM

to

01:45 PM

Where

Zoom-Meeting

Contact Name
Katja Kukatz
Add event to calendar

vCal




iCal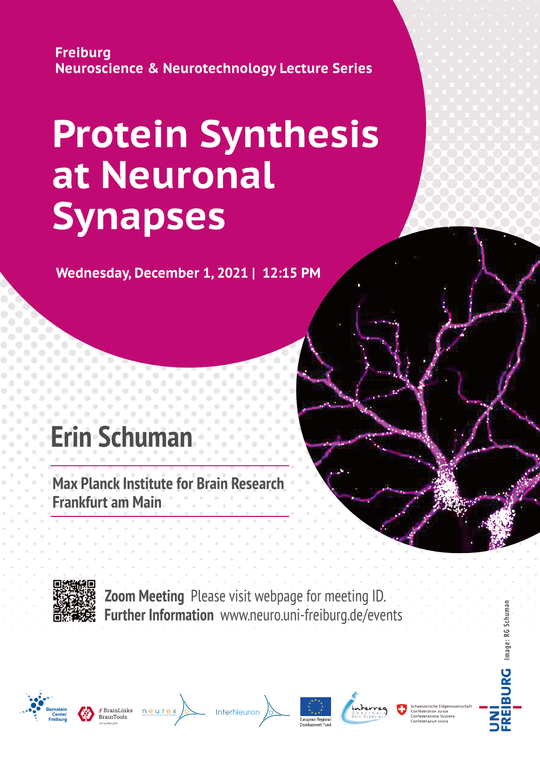 Abstract
The complex morphology of neurons, with synapses located hundreds of microns from the cell body, necessitates the localization of important cell biological machines, including ribosomes, within dendrites and axons. Local translation of mRNAs is important for the function and plasticity of synapses. Using advanced sequencing and imaging techniques we have updated our understanding of the local transcriptome and identified the local translatome- identifying over 800 transcripts for which local translation is the dominant source of protein. In addition, we have explored the unique mechanisms neurons use to meet protein demands at synapses, identifying surprising features of neuronal and synaptic protein synthesis.
Duration of the talk:
Approx. 50 minutes, then general and specialized discussion.
The talk will be held online via Zoom
Meeting ID and password will be sent with e-mail invitation. You can also send an e-mail to katja.kukatz@bcf.uni-freiburg.de for meeting ID and password.
More about the speaker and her research
Max Planck Institute for Brain Research
Host