Anil Ananthaswamy: Altered Selves and Self Models
Science writer, USA [NEUROSCIENCE & NEUROTECHNOLOGY LECTURE SERIES]
When
Sep 12, 2023
from

12:15 PM

to

02:00 PM

Where

IMBIT, Nexus Lab, George-Köhler-Allee 201, 79110 Freiburg im Breisgau

Contact Name
Natalia Ilin
Add event to calendar

vCal




iCal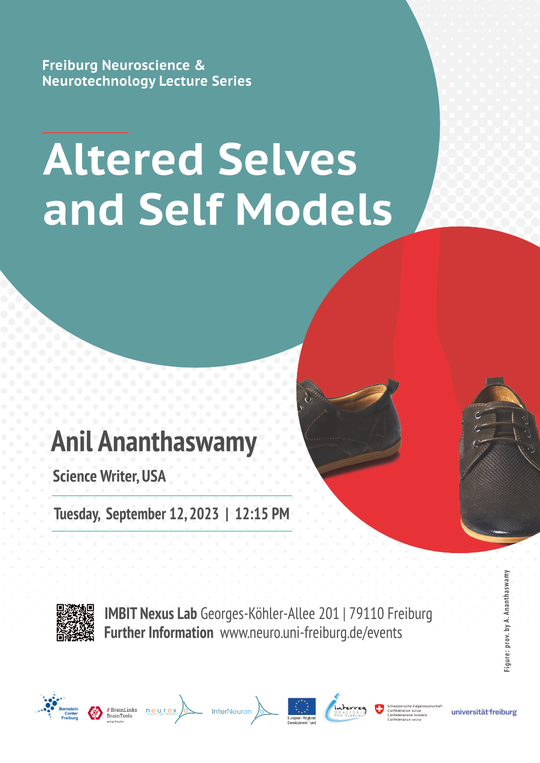 Abstract
Could changes in how we experience ourselves—in conditions such as Xenomelia and Autoscopy – be due to changes in how our brains model our bodies and the environment? And could these altered selves give us clues to the nature of our sense of self? In this talk, Anil Ananthaswamy explores the idea that our sense of self is a construction, a process that is active moment-by-moment. A construction can come apart, as it does in conditions such as Alzheimer's disease, schizophrenia or even during out-of-body experiences; in each case, certain aspects of our sense of self are disrupted, even destroyed. Examining the ways in which the self is altered helps us understand how the self is put together in the first place, by the brain and body acting in concert.

About the speaker:
Anil Ananthaswamy is an award-winning science writer and former staff writer and deputy news editor for New Scientist magazine and a 2019-20 MIT Knight Science Journalism fellow. He's currently the journalist-in-residence at the Heidelberg Institute for Theoretical Studies. Anil writes regularly for Quanta, Scientific American, New Scientist and Nature, among others. He is the author of three books: The Edge of Physics, The Man Who Wasn't There and Through Two Doors at Once. Anil's next book, Why Machines Learn: The Elegant Math Behind Modern AI, will be published by Dutton, Penguin Random House, in May 2024.
Duration of the talk:
Approx. 50 minutes, then general and specialized discussion.
Where:
IMBIT, Nexus Lab, George-Köhler-Allee 201, 79110 Freiburg im Breisgau
More about the speaker and his work
Host